Holly Mititquq Nordlum – 2023 Visual Artist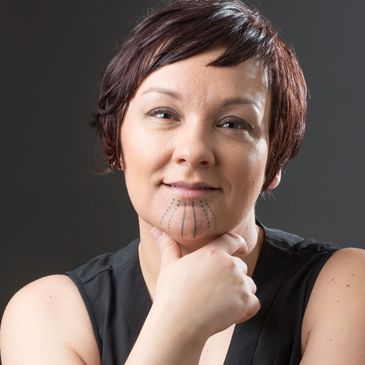 Holly Mititquq Nordlum is an artist, a graphic designer, public art contractor, traditional Inuit tattooer and a hopeful social justice insister. She uses many mediums: printmaking, painting, filmmaking, and tatooing to express her ideas about life and issues of native people in today's world. "Inuit culture and my Ancestors guide my work but I am most inspired by our lives today and the way we live in two worlds, one old and the modern urban life," Nordlum said.
"I take my dogs out every day, winter spring summer and fall. This fall one day, I decided out of the blue to head to the beach and took them to Pt Woronzof . I was surprised to see the tide was so far out, and the water was very shallow but we had a lot of beach for them to run around on. as I was walking, I saw a ripple in the water and I thought oh maybe a salmon but as the ripple came closer to the beach, I could start to see the outline of a big animal bigger than my dogs the shape in the water look like it could be either a big muskrat, or a very small beluga whale … I of course stood there watching it for a very long time and as it popped his head up to look at me, I realized it was a seal. I watched her zigzag in and out of the shallow water and every once in a while, there would be a ruckus like she caught something… probably a fish of some kind. The weather wasn't that great and then it just rained so there weren't many people out there, but there were some, and nobody else noticed, or paid attention to this hunting seal that she never really showed her self entirely just the top of her head looking out at us. As this continued, I whistled at her just a little whistle to say hello and she came a little closer, and as we walked back toward the hill and the parking lot, she followed us probably about a half a mile, she would pop up her head and watch me as I continued to walk and whistle here and there. I was in awe and privileged to catch site and watch her and as I walked back up the hill and more people were coming down, none of them noticed as she continued to hunt…
This made me wonder why? Am I the only one paying attention? What a wonderful gift it was for me and they all missed it.
This encounter inspired this piece. We are lucky to live in this beautiful place and if we pay attention, we see wonderful things happening."
Nordlum received a Bachelor of Fine Art Degree in Graphic Design and Photography from the University of Alaska Anchorage. She was named a Time Warner Fellow with the Sundance Film Festival, and received an Art Matters grant, and a Humanities Forum grant for her work documenting the Tupik Mi Project (traditional Inuit tattooing) – which was also featured in the New York Times Lifestyles Section Summer 2018. She also received a Rasmuson Individual Artist Award, and was named to the Smithsonian's Nation Museum of The American Indian's Artist Leadership Program. You can see more of her work at https://naniqdesign.com/